A gorgeous venue designed to inspire
Fantail Farm is currently closed for events. We will update this website if future dates become available.
Nestled in an iconic country setting, surrounded by farmland and native bush, Fantail Farm is a private boutique venue tucked away at the end of Ness Valley, Clevedon, a 45-minute drive from Auckland CBD.
Fantail Farm facilities combine natural beauty, designed functionality and action-based activities. A refreshing and unique retreat away from the hustle.
Our unique, purpose-built environment is the perfect venue to host an intimate wedding, a corporate event, a special celebration, or serve as the backdrop to a photo or film shoot.
Weddings – enjoy an intimate celebration among the many elements of this carefully crafted setting. Read more..
Corporate Events – strategy sessions, board meetings, workshops or team events, Fantail Farm is the perfect venue to achieve your team's objectives. Read more..
Photo or Film Shoot – picturesque native bush, and surrounding farmland provide the perfect backdrop for your next photo or film shoot. Read more..
An intimate venue with relaxed sophistication 
Our resort-style pool, subtropical gardens and waterfall features frame a luxurious poolside cabana. A stone fireplace, bar and pizza oven further enhance the magic of this unique venue, while the adjoining tennis court, pool and 1:1 basketball court offer further entertainment for our more active guests.
Discover more about the magic behind our facilities and our event offering.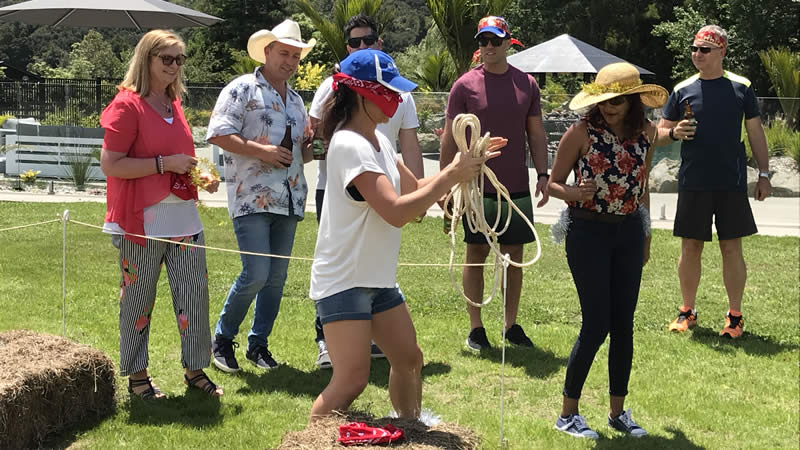 "Thanks Fantail Farm, you're the best. You made our Strategy Day so productive and fun, particularly the team-building exercise, which continues to make us smile. Running through an obstacle course blindfolded, with our team members shouting instructions – crack-up! Outstanding venue, yummy food and wonderful hospitality. We'll be back next year."
Jenny Holden
Resort-style environment - providing for all your needs
Nicky Toresen and husband Aaron moved to Ness Valley, Clevedon in 2013 to create a haven for their family. Their long-term vision was to develop a unique environment that brings vibrant people together to enjoy a country experience with a tropical resort feel, without leaving Auckland. This intention was supercharged after their family survived a helicopter crash in 2015, energising their resolve to make this a reality. Read more..